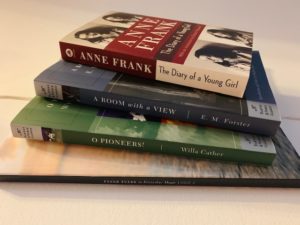 I went back to Barnes & Noble this weekend because when I was there for book club last week I saw a new edition of the Bella Grace Field Guide. These magazines don't tend to last very long on the stand and I wanted to see if it was something I wanted to have so I had to go back.
Of course I also found out that the B&N Classics were 50% off and couldn't resist adding two titles to my library. I got O Pioneers! by Willa Cather and A Room with a View by E.M. Forster. I wanted a few others but actually wasn't sure if I already had them on my shelves so I decided to not go overboard.
The last book was The Diary of a Young Girl by Anne Frank. I read this when I was a teen and I owned a copy but it was unfortunately one of my childhood books that got damaged in an apartment flooding when I was in college. I thought it was time to get a copy for my shelves. I think being that I was in Amsterdam recently, Anne Frank's story has been on my mind so I want to re-read it.
I did a bit of crafting and organizing so on the whole a very nice weekend. Now to catch up on some reading before it's time to get the work week started. Did you add any new books to your shelves this weekend?