Another year has rolled by and it's time to celebrate my blog's 8th anniversary. Eight years. I cannot believe I'm typing that. Granted this past year may as well have been the year of the absent blogger but my love for books has been as strong as ever.
I hope that one of these days my love for blogging will return. I guess not so much love, I still do enjoy it but I've just felt the need to pull away. I've needed the time that was going into blogging to focus on other areas of my life. My family, my crafting, etc. I know many of you can relate to that.
What with vacation coming up and my craft show in the middle of August the posts will still be hit or miss but I just couldn't miss out on this opportunity to thank all of you blog friends. Thank you for sharing your love of reading with me.
My tradition has been to do a giveaway and this year it's no different but I'm only giving out one book and it's not one of my beaded journals. It's actually a new line of journals I'm introducing: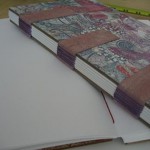 This journal is bigger, has heavier paper that is great for pencil, pen & ink, charcoals and maybe even some light markers. Like my beaded journals, it also lies flat so it's great for journaling. These journals aren't yet in my shop but will be later this Summer. So leave me a comment, I would love it if you could recommend a good read and I'll do a random drawing this Thursday.
I'm off to celebrate my bloggiversary with a visit to the bookstore and planning my vacation reads. Yay. Have a great start of the week and more soon.