If you've been reading my blog for a while you've no doubt seen some guest posts by Karen E. Olson and I'm thrilled to have her visit my blog again as she tells us about her latest mystery novel which introduces her new amateur sleuth, Brett Kavanaugh in The Missing Ink.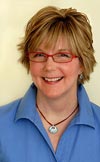 I never thought I'd write a mystery with an amateur sleuth. It seemed too hard. That's why I wrote a reporter character, because there's a legitimate reason she's running across dead bodies and crime. It's her job to cover them, to get involved. With an amateur sleuth, well, is there a reason?
So imagine my discomfort when I was faced with Brett Kavanaugh, tattoo shop owner, in THE MISSING INK. She's a nice girl who live with her brother and runs her own business, which is thriving. Why on earth would she get involved in solving a crime?
I figured I should make it personal. It seemed the only way. A woman comes into her shop for a devotion tattoo with the name of her fiancé. She makes an appointment but never comes back. A few days later, a cop comes around with a picture of her, asking if anyone's seen her. It turns out that the last person to have seen her was Brett.
That's the basis for the story, for getting Brett immersed in the investigation. I did decide that her brother's a Vegas police detective, although as I wrote I realized he wouldn't want her getting involved so he's not helpful. He's just concerned about her safety.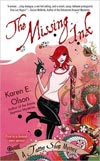 A string of events made it even more personal, so I began to think that while I might not pursue a killer, Brett's got a bit more curiosity than I do—and more than the average person. I don't have her doing anything that would make her too stupid to live, but she does set things in motion that result in a pretty dramatic finale.
Because I had a two-book contract, I had to do this all over again, and again I made it personal. I would be hard pressed to think that anyone, even one with an overabundance of curiosity, would legitimately investigate a crime if she's not a cop, a lawyer, a private detective—or a reporter. But those readers who like amateur sleuths might give it a pass if there's a strong storyline.
What do you think? Are you a fan of the amateur sleuth? Do you suspend disbelief for a good story?
~ Karen
** Thank you Karen for stopping by my blog and telling us about your latest book. While I tend to read more detective fiction, I can definitely get hooked on a good amateur sleuth story. I really enjoyed The Missing Ink so stay tuned for my review!
** You can also find out more about Karen's upcoming blog tour stops and other projects by checking out her website, www.kareneolson.com and her blog www.firstoffenders.typepad.com.