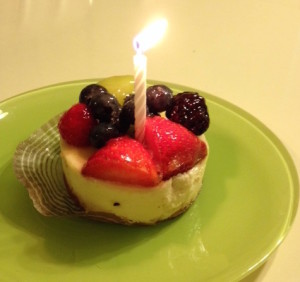 I had a very nice weekend despite our plans getting rained out. It is incredible how much rain we've received here in Central Texas and I really feel for those families who have lost so much. It looks like we have more rain in the forecast so wishing safe days ahead for everyone!
I celebrated a birthday on Monday and we went out for a yummy lunch and I had this mini cheesecake waiting for me when I got home.
My husband treated me to some wonderful goodies. I got Gelli Plate Printing by Joan Bess. I cannot wait to try out some of these techniques. He also got me a box of Faber-Castell Gelatos. Love these and I only had two, so yay, I now have a collection. And, I also got a a very lovely necklace.
I had many birthday wishes from friends and family. Thank you guys for making my day so sweet!
Of course there were more books involved as it was a birthday weekend. Half Price Books was having a 20% off sale and I snagged a few books: Wings of Fire by Charles Todd, Beautiful Ruins by Jess Walter and Into the Darkest Corner by Elizabeth Haynes.
And, having a three day weekend was the best. I hope you all had a very nice weekend. Tell me what you were up to.