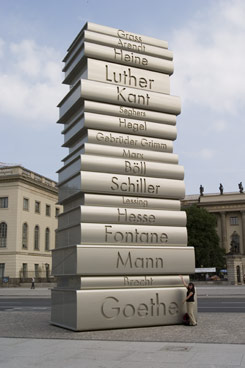 We also encountered big books on our daytrip to Berlin. At Bebelplatz, where once 20,000 books were burned, this new sculpture stands as a proof that books are big in Germany.
Did you know that about 700 million copies of books are printed in Germany every year? That's about 80,000 titles, nearly 60,000 of them new publications. Germany is in third place on international statistics after the English-speaking book market and the People's Republic of China.
And, yes, that's me next to the big stack of books. My stack of unread books somehow doesn't seem as daunting any more.