Some co-workers were talking about throwback Thursday posts on Facebook and I thought why not post about that here today as I'm not much of a Facebook user.
So before the blog here's how I was recording my books read and books I wanted to read.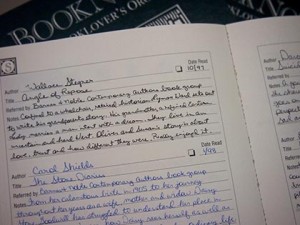 I have three of these journals and am getting a kick out of looking through the entries. I think the furthest back they go is to May 1996. Before these books I know I was keeping track in spiral notebook. I wonder what happened to it.
Anyway, here's a fun entry. Under the "I" section I mention reading A Prayer for Owen Meany by John Irving in 1999. It was for my Borders book group and I mention that this is my second time reading it. I thought I had only read that book once! Oh man, so many books and years ago it's hard to remember the details.
How about you, what did you do before having a book blog?
Update: I just realized I blogged about this back in 2007. Haha. Ok, I think that's what happens when you've been blogging a very long time.