Armed with my museum pass, I wandered around some amazing galleries and collections in Berlin. I finally got to visit the Neue Nationalgalerie and fell in love with a lot of the art work. One favorite painting was Kirchner's Potsdamer Platz. We also got to see a special calligraphy exhibit and I got to spend some time with the old Masters at the Gemäldegalerie.
But what really made my museum visit special was a trip to the Altes Museum where the Egyptian collection is housed. You see, right before I went on vacation I had received Michelle Moran's book Nefertiti. I remember hearing good things about it from some of you guys and thought it'd be a great vacation read. So I packed it up in my book bag for the trip but it didn't dawn on me that I would actually get to see Nefertiti's bust at the museum. The inspiration for the book!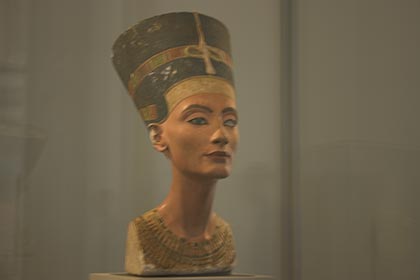 Isn't it fantastic? Well, I know the picture is not the best (the bust is encased in glass) but it really is dazzling and you can't help but be amazed that such a treasure survived so many years. Aside from Nefertiti's bust, I think my other favorites were the papyrus scrolls.
Anyway, after I saw the exhibit I quickly picked up the book and thoroughly enjoyed it (my review). The only thing I had a hard time with at first were the dates that the author notes in the beginning of the chapters. I didn't realize that there is a calendar in the glossary that explains these. So don't forget to check that out when you read the book. As I was nearing the end of the book I had so many questions about what could have happened afterwards and what do you know, there is a sequel coming out this August. Yay. I will definitely be looking for it.