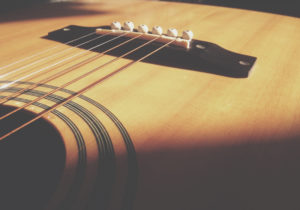 I hope you all had a wonderful weekend. It went by too fast didn't it? We really enjoyed our weekend and especially getting out to a classical guitar concert on Saturday. We went to see Irina Kulikova play at the AISD Performing Arts Center. This was our first time at the venue although we have been to other concerts from Austin Classical Guitar.
Although it was a rainy night we got there in plenty of time to also enjoy some food from Llamas Peruvian Food. The rice and chicken bowl I had was so good.
Of course the best part of the evening was the concert. Irina played some music I was familiar with, like Chopin and Bach but she also shared music from composer Konstantin Vassiliev and one piece in particular which I believe she said was not recorded yet.
So all of this made me think of how much I've enjoyed classical music in my life. I was exposed to it from an early age when I spent years in ballet and violin classes but I haven't listened to it as much any more. So I was thinking about that before we went to the concert and wouldn't you know it, I heard about Year of Wonder and thought wouldn't it be fun to get this book and reconnect with classical music. The book introduces you to one piece of classical music each day and it spans genres and time periods. I think that would be so fun.
Anyway, all in all a great weekend but now it's time to get ready for the week ahead. I'm hoping to finish a couple of books this week! Let me know what you were up to this weekend and if you listen to classical music tell me who your favorite composer is.