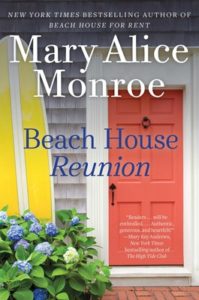 "All roads lead home. That thought mingled with the soothing sound of Debussy as Cara descended from the majestic highlands of Tennessee toward the sultry low country of South Carolina."
Beach House Reunion
By Mary Alice Monroe
Published: May 2018
Source: Advance review copy
Linnea Rutledge has graduated college and heads back to her family home set in Charleston. She knows her family has certain expectations about her future to and especially to uphold family tradition but she feels adrift and as soon as she sets foot back home she sees tension between the family members. To clear her head she decides to spend the summer at her aunt's beach house.
For Cara Rutledge, having Linnea around will be a welcome addition to her house. Since her husband's death she has slowly been taking steps to move on in life. One of those major steps is now being the mom to a beautiful little girl. With Linnea helping out with babysitting, maybe it's time for Cara to think about her career and the future.
The two women despite very different stages in their lives are learning about family and what matters. They both meet new friends, reconnect with the ocean and the beautiful sea turtles and most importantly they learn to make choices for themselves even if it goes against the family tradition.
This was a light read but had enough characters and issues to keep the story moving forward. Whether you have already taken your summer vacation or not, this would be a good read to make you feel like the beach is just steps away from your door.