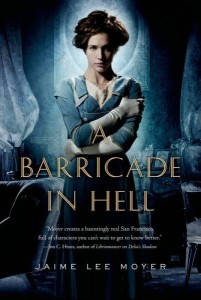 "Moonlight filled our bedroom with windblown tree shadows and uncertain light that gathered in pools on the carpet. Gabe still slept peacefully next to me, one hand splayed on his chest and unaware anything was amiss. I envied him that. Nocturnal visitors seldom summoned my husband from dreams. A ghost, a tiny girl of no more than four or five, stood in one puddle of light."
Barricade in Hell
By Jaime Lee Moyer
In the follow up to Delia's Shadow, a couple of years have passed by and Delia continues to use her special gift of seeing ghosts to help her husband Police Captain Gabe Ryan solve crimes. The couple has faced some difficult personal situations but overall has settled into a tranquil life.
Unfortunately that peace is threatened by the appearance of a new ghost. While it may be the ghost of a small child, it is proving to be very difficult to make disappear and the little girl is attached to Gabe. Delia fears for Gabe and brings in her friend Dora, who is a medium, to help her understand what this spirit wants and get rid of it.
Meanwhile Gabe is facing another difficult case this one involving the murder of the commissioner's son-in-law. Gabe's leads take him to a charismatic evangelist who preaches peace but it is clear there is something evil that is taking hold of the people who follow this evangelist.
This is an enjoyable mystery series with a paranormal twist. I found the first in the series to be a bit bogged down by the introduction of so many characters, the special circumstances and by the romance aspect but I feel like the author is now comfortable in that she's established the premise and can move into a more substantial mystery.
I think the writer did a great job especially in the first part of the book with setting the scene and really going for a creepy, spooky atmosphere. Which you would expect when dealing with ghosts, right? I'm looking forward to the next Delia and Gabe adventure.
Source: Advance review copy