Finally, vacation is here! My suitcase is packed and my backpack is ready to be filled with books. Now is the time when I really would like an eReader as I'm taking quite a few books with me as I had to select only mass market size books so I could fit in more.
I've got mysteries, classics, and general fiction so I think I'm set. Here's my backpack and books.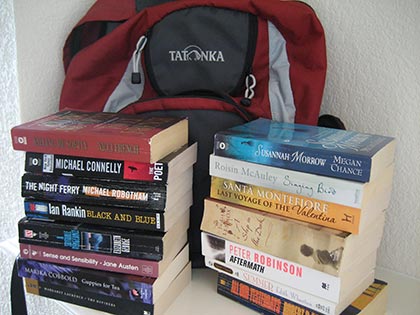 We'll be making a stop in New York for a couple of days so I get to see my dear friend, Christine, and then we'll be on our way to Germany (Niedersachsen) to visit our family. I cannot wait to have warm Brötchen with Nutella every morning, go for long walks, spend afternoons with friends and just relax.
I will probably not be posting much but I will be reading lots. I'll miss visiting with you guys but I'll try to fit in some time amidst all that relaxing to stay in the loop. More bookish talk soon.