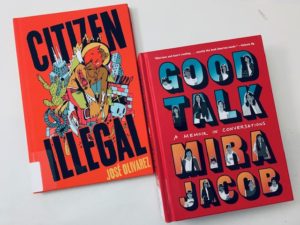 I hope you guys had a great weekend. I got to meet up with one of my dear friends who was in town and as usual we had a great time catching up since her last visit a couple of months ago. The other exciting news this weekend was that I finally went back to the library after a break that I think started back in September.
Don't get me wrong, I still borrow books but limit myself to audiobooks and I use the Libby app for that. This time though I really wanted to check out a graphic novel and a poetry book I had heard good things about.
I love that the two look like they go together with their red covers. Anyway, Citizen Illegal by Jose Olivarez is the poetry collection. I first heard about this book via NPR and I believe it was one of their best books of the year. The other book is also another NPR recommendation and it's Good Talk by Mira Jacobs. This is graphic memoir and through a quick look through I see illustrations mixed in with photography so I'm excited about this one.
While I did take a look at the new books shelves, I refrained and only picked up these two which were my holds. I love the library but I need to make sure to focus on all of my books.
Anyway that's about it and now I have to find a new book to read tonight because I finished my mystery last night. Have a great week ahead and more book talk soon!