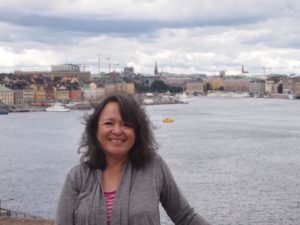 Hello Friends – We are back from our vacation! We really enjoyed our time in Sweden and Germany. Got to see friends in both countries, family and of course had new adventures. I managed to get sick while on vacation – what a pain – but it was a simple cold and it didn't keep me from going out except for one day. Luckily when it really hit me was when we were in the West Coast of Sweden and we had a cottage we rented via Airbnb. The place was cozy and comfy and even had a fireplace which we put to good use.
For the most part the weather was super. Cool enough to enjoy long walks and a great respite from the heat in Texas. We had a car in Sweden so we visited Gothenburg, Bohuslän, Stockholm and Malmö.  I would say my favorite areas were the west coast and Stockholm. I have pictures to share and want to tell you more about some of the places we visited. Of course, there was plenty of time for reading while we were on ferries, trains and road trips. I think I read nine books while we traveled.
It's hard to get back to reality but luckily we had an extra day with the Labor Day holiday. I know I have plenty of work waiting for me and so I can't promise that I'll catch up as quickly as I would like but I look forward to visiting with you guys and hearing about what you've been up to.
Hope you have a great start of the week and more book talk soon!