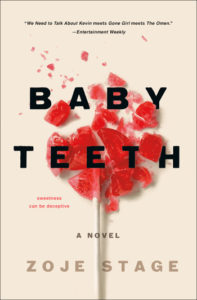 "Maybe the machine could see the words she never spoke. Maybe they blazed in her bones. Maybe if the people in the white coats blew up the pictures they'd see her thoughts, mapped like mountains and railroad tracks, across her ghostly skull. Hanna knew nothing was wrong with her. But Mommy wanted them to look. Again."
Baby Teeth
By Zoje Stage
Source: Library copy
Suzette is determined to find out why Hanna can't speak. When her daughter was born there were no indications that anything was wrong with her but now she's seven years old and she still hasn't said a word. Hannah just doesn't like to speak and besides she knows it makes her mommy angry and she's not one to want to please her mommy.
Suzette wishes that her husband could see that something is wrong with Hannah but he doesn't want his child labeled as anything other than a normal little girl. He's is sure it's simply a phase and Suzette only needs to have more patience. If only Alex could see that their baby girl acts very differently toward mom.
Things start to spiral out of control in their household when Hannah finally speaks but only to channel the voice of a woman who was tried as a witch. Meanwhile Suzette's health is worsening and her medicine doesn't seem to be working. She's afraid that her Crohn's has gotten worse and if only she could have more time with Alex and without the stress of caring for their daughter. Hannah has been expelled from several schools but it's time they try again. Getting Hannah into a new school is not going to be easy and Hannah is not going to let mommy get away with that.
There were some elements of this story that I thought were very well done. I loved reading about the different emotions Suzette goes through as she is trying to understand her daughter. This book also really was good at keeping the suspense up for what was going to happen next in the battle of wills between Hannah and Suzette. The one thing I found a bit off was the bit of supernatural element that I thought was kind of dropped midway. On the whole an entertaining read and could be a good one for those of you participating in R.I.P.