You've got to promise me that if you ever make it to Austin aside from visiting one of my favorite bookstores, BookPeople, you will also go to Moxie and the Compound. Why you ask? Well, because they have very cute stuff made by Austin artists and I'm so excited to say that some of my journals are there too now!
Here's are the ones that are now on display over there: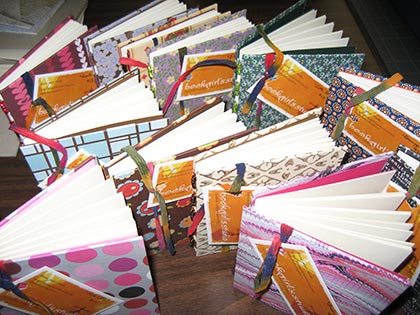 I've been a busy Bookgirl today and I'm so tired. I've cut a lot of paper today and think I've mentioned before that cutting paper is my least favorite part. The good thing is that tomorrow I get to sew all day. I have some new decorative papers for my book covers so it's been fun to come up with the color combos.
Anyway, there's so much going on in the blogosphere and I need to tell you about books read, books ongoing and all that good stuff so stay tuned.