We had such a fun day on Saturday when we went for the annual East Austin Studio Tour. The tour is an excellent time to view art and get a behind-the-scenes look at where the art is created. This year there were 154 studios opening their doors to the public, events, and all kinds of other happenings. The best part is that now the tour is being held over two weekends, which is a great thing as there is just so much to see!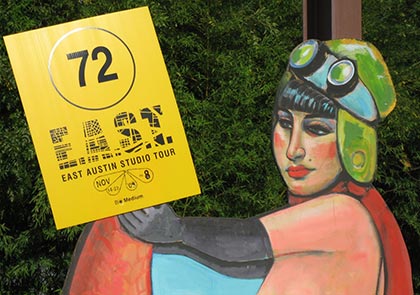 I picked up some information on art classes and am looking forward to trying some new things next year. You know what I've been thinking about for a while? Printmaking and letterpress. I think those go very well with bookmaking don't you?
Anyway, aside from all the inspiration from the tour we also went to the bookstore in the evening and guess what I found, this magazine called Where Women Create. I've seen it before but I think I'd forgotten that it was going to be published on a regular basis. So this gave me more inspiration not so much on my crafty pursuits but more about how to organize my studio. Oh so many wild thoughts floating through my mind.
So, I'm curious if you were to try a new art/craft technique, what would you try?
Alright, I'm going to settle down with a good book for evening. I've done quite a bit of reading this weekend but I'll tell you about those books in another post.