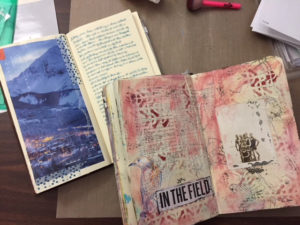 I hope you all had a wonderful weekend. We finally went to see The Snowman and I know it hasn't gotten any great reviews but I actually thought it was ok. Maybe because I was prepared to think it was awful. Anyway, I haven't read any of Jo Nesbo books but one day I will get to them. After all, I do have a couple on my shelves.
Other than that, I put off going to the library as I really wanted to go to the new central library but it was going to be a big to do as it was the opening celebration and what with parking being hard to come by downtown I figured it was going to be too much drama for me. Hopefully I'll visit it soon but I do plan go to the branch closest to me as the holds are piling up.
Today I did a bit of journaling both in my fauxdori and a moleskine journal. My fauxdori is where I capture random thoughts and usually use washi tape, stickers, you name it. For this spread I found an image of a winter scene and put that one one side and then for the journaling part I wrote about The Snowman and Trapped which both are set in very snowy, cold locations. Beautiful locations but they sure do look cold.
My moleskine journal is one of my art journals and for this two page spread I used some tissue paper and dictionary paper for the background, stencils, words cut out of a magazine and a vintage photo. Tried to tie it all together with paint and some rubber stamps. I love playing with my art supplies. Lots of mistakes and aha moments to enjoy!
Anyway, that's the latest scoop. What did you do this weekend? Let's see what bookish adventure this week will bring!