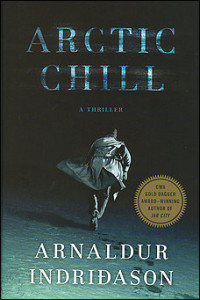 "They were able to guess his age, but had more trouble determining which part of the world he came from."
Arctic Chill
By Arnaldur Indridason
Frigid temperatures and dark days are the backdrop for this mystery featuring Reykjavik police detective Erlendur. This time his team is called out to investigate the murder of a Icelandic-Thai boy. His body was found in the garden of his apartment, lifeless from a knife wound to his stomach.
By all accounts Elias, the ten year old boy, was well-liked by his teachers and friends but as Erlendur investigates he realizes that there are many who people who are wary of immigrants and others who downright don't want to mix with them.
When Elias's older brother disappears Erlendur doesn't know if another crime has been committed or if Niran is the guilty party. On top of trying to find Niran quickly, Erlendur is plagued by thoughts of another crime his trying to solve and a woman caller who he can't decipher.
So not only is the main plot tragic, as it surrounds the death of a child, but Erlendur is also struggling with the recent death of his mentor, his poor relationship with his son and daughter and his guilt over the death of his own brother when they were children. All of this makes for a very somber mood.
I have enjoyed other entries in this series a bit more. I found the resolution to this mystery a bit of a letdown and overall it was sad but I will be back for more because I've read that there will be an end to this series in a couple of more books and I am hoping for some closure for Detective Erlendur.
Source: Library copy