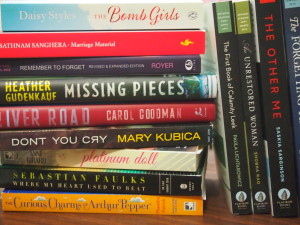 I got a lot of Advance Review Copies last month and this should be a reminder to me that I need to read more from my shelves but oh no, I have holds waiting for me. I'll tell you about those another time.
Let's talk about some of these new books because there is a great mix of mystery, fiction, favorite authors, and new to me authors.
Here are the new books:
The Forgetting Time by Sharon Guskin
The Other Me by Saskia Sarginson
The Unrestored Woman by Shobha Rao
The First book of Calamity Leek by Paula Lichtarowicz
The Bomb Girls by Daisy Styles
Marriage Material by Sathnam Sanghera
Remember to Forget by Ashley Royer
Missing Pieces by Heather Gudenkauf
River Road by Carol Goodman
Don't You Cry by Mary Kubica
Platinum Doll by Anne Girard
Where My Heart Used to Beat by Sebastian Faulks
The Curious Charms of Arthur Pepper by Phaedra Patrick
I wish I could spend all weekend in bed just reading my new books. So have you read any of these and if it was you, which one would you pick up?
Happy Weekend all!