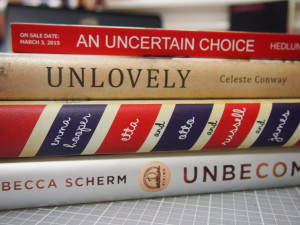 It's been a while since I've done a post on advance review copies but I haven't received very many lately because I haven't wanted the pressure of having a lot of review books and not reviewing them. You know how that goes right?
Anyway, here are the new books I've received. some of these I did request but others were pleasant surprises.
An Uncertain Choice by Jody Hedlund. A story about kingdoms, knights and a beautiful princess.
Unlovely by Celeste Conway. From the back cover, "They look so sweet and lovely… but what is the dark, unlovely truth?" A tale of ballerinas, romance and horror.
Etta and Otto and Russell and James by Emma Hooper. From the publisher: Moving from the hot and dry present of a quiet Canadian farm to a dusty, burnt past of hunger, war, and passion, from trying to remember to trying to forget, this an astounding literary debut about friendship and love, hope and honor, and the romance of last—great—adventures.
Unbecoming by Rebecca Scherm. From the publisher: Unbecoming is an intricately plotted and psychologically nuanced heist novel that turns on suspense and slippery identity. With echoes of Alfred Hitchcock and Patricia Highsmith, Rebecca Scherm's mesmerizing debut is sure to entrance fans of Gillian Flynn, Marisha Pessl, and Donna Tartt.
I want to read all of these now but I think I'm in the mood for Unbecoming. I'll keep you posted. What about you, what new ARCs have you received lately?