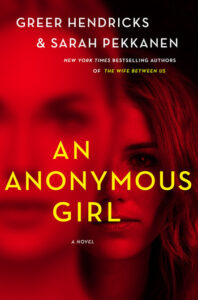 "A lot of women want the world to see them a certain way. It's my job to create those transformations, one forty-five minute session at a time. My clients seem different when I've finished helping them. They grow more confident, radiant. Happier, even. But I can only offer a temporary fix. People invariably revert to their former selves. True change requires more than the tools I wield."
An Anonymous Girl
By Greer Hendricks & Sarah Pekkanen
Source: Advance review copy
Jessica is a make-up artist living in NYC and her job is going out to clients to do make-overs. When she is at a college dorm helping a young woman get ready, she finds out about a psychological study. She could really use some extra money so she takes a chance and sneaks into Dr. Shield's study on ethics and morality.
Surely a couple of hours sitting through some online questionnaire is worth it but as Jessica is answering the questions she thinks some of them are too intrusive. Still the promise of additional compensation makes her take a chance on an extended study.
When she meets the enigmatic Dr. Shields, Jessica is eager to please. She's got a sister who is ill and she wants to provide care for and her dad is soon out of a job. However the more she time and confidence she gives to Dr. Shields, the more she wonders about the nature of the study. Something doesn't seem to add up.
Dr. Shields is very smart and she's manipulative. She can see that Jessica may be starting to mistrust her but she'll find a way to keep Jessica her subject, even if it means blocking Jessica's job opportunities so she's completely dependent on her being part of her study. Dr. Shields will get to the bottom of what she needs to find out about the real Jessica and her intentions.
Told from dual view points, the reader can find sympathy with Jessica's need to continue working with Dr. Shields but at the same time you want to yell at her and say, Jessica run get out of that toxic situation. It was actually bit harder to buy into Dr. Shields need for the study and the lengths she was willing to get the information she needed. Still this was a breeze to get through and for fans of psychological thrillers this would be worth checking out.