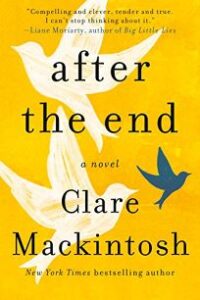 "Leila swallows. If it is this hard for her, how impossible must it be for Pip and Max to listen to the judge's words? To know that in a few moments they will hear their son's fate."
After the End
By Clare Mackintosh
Source: Advance review copy
Pip and Max Adams life is turned upside down when their young child is diagnosed with cancer. Their days are marked by countless hours at the pediatric unit where Dylan receives his chemotherapy.
They see other children come and go and when a child is released healthy and happy they imagine that one day that will be their child but those dreams are shattered when Dr. Leila Khalili comes back with a grim diagnosis.
After thinking things through Pip and Max reach a conclusion on what to do next however they are not on the same page and now the courts must intervene to determine what is best for Dylan. The couple who thought their love would get them through this tragedy is now faced with being on opposite sides. Both fighting for their son and both still very much in love but how will they face this challenge?
At this part of the narrative the author decides to take the reader through two different story lines to imagine what happens depending on which choice the parents will have to take. I really liked this and thought it was an interesting way to show that regardless of the path, this family was going to go through the most difficult time of their lives. This was a sad and moving story and despite the subject matter it was a page-turner because I was invested in what happened to the characters.