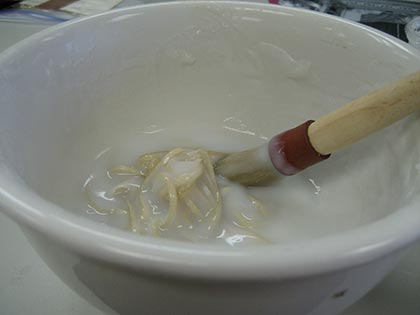 Bowl of noodles anyone? Just kidding. That's my bowl of vellum strips soaking up wheatpaste. This afternoon I didn't work on my springback book because I wanted to get ahead in a new binding technique I'm learning which will hopefully result in a large journal to be used as a photo album.
The vellum strips will be used in the binding to give it a bit more flair. Why soak them in wheatpaste? Vellum is hard so I want the strips to soften up so I can sew them through the spine and be a part of the binding.
This will be a short post tonight because I need to go rest my arms – I couldn't even make it to yoga tonight. I had to make 10 cutouts in the spine of the book, where the thread and vellum strips will go through, and this was particularly hard to do because I'm also using vellum on the spine. The spine is thick cardboard reinforced with vellum so it's quite sturdy. Seriously, I could barely straighten my arms after holding on to scalpel and ruler while I made those precise cuts.
More book talk tomorrow!