Like I mentioned in my last post, this weekend I was busy bookbinding. Cutting paper, gluing, selecting paper, sewing, you name it. I had my tunes going on and I was having a wonderful time. I got 11 books done and have a few others in various states of progress.
A while back I mentioned making a book with library pockets. I have made one of those before but I wanted to use my walnut ink stained pockets for this but in the end decided they didn't look as good with the paper. Besides I figure the way the book is now, anyone can still make it more their own but stamping on it, collaging it, or just dabbing some ink from an ink pad on it. Here's the finished result: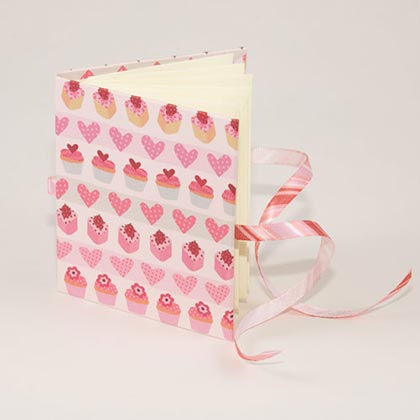 I'm calling this my keepsake book as the pockets are perfect for storing away ticket stubs, little photos, gift cards, and all sorts of ephemera. I do have some paper which I think will work perfectly for those ink stained pocket books so I'll be making that one soon.
And, in case you are wondering what happens when things don't go according to plan… Well, that happens too. Sometimes I cut a board not quite straight, or I miscalculate how much decorative paper I'll need. Usually though it's the gluing that gets me. My husband laughs when I tell him I had a "bad glue day" but I swear they exist.
Take a look at this keepsake book on a bad glue day:
A lot of times I can salvage a book but not this one. Just as I was gluing down the last pocket, I don't know what happened but it didn't quite align on the board. I tried pulling it off (as you can see here) but that didn't help anyway because I had glued all the pockets and one pulled another and so on. Ah well, I did learn how to work around this the next time so at least there is that.
Next up for my bookbinding adventure I want to use some gorgeous Japanese Chiyogami paper Christine sent me for my birthday. I already have a book structure in mind so let's see how that goes.