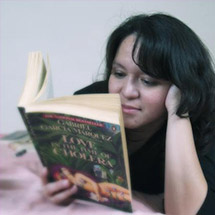 My name is Iliana and I'm addicted to books. Ever since I learned how to read I've never been caught without a book close at hand. I have books by my bedside, in the car, at my office and I've been known to pack light when I travel so any extra suitcase space will be used for book purchases. I also have a Kindle which especially comes in handy when traveling.
I'm originally from Mexico but have lived in Texas for a long time. Currently my husband and I call Austin home.  We share a love for books and our house is filled with them. We love to travel and go to Germany every year to visit my husband's family. Friday nights you'll usually find us at the local bookstores enjoying coffee, magazines and books.
When not reading I am playing with paper as I've been dabbling in bookbinding since 2007. I began accumulating lots of blank journals so I opened up an Etsy shop in 2008. On occasion I also participate in craft shows and sell my journals in local boutiques. Aside from bookbinding, I enjoy art journaling and if I'm not buying books, I'm probably buying craft supplies.
I have too many favorite authors to name and if you ask me what my favorite book is, it will probably change on any given day. I enjoy reading mainly fiction and mysteries but like to read other genres as well, like YA, poetry, graphic novels, and non-fiction.
I've been blogging since 2004. Welcome to my world of books.
Review Policy:
Thank you to all authors and publishers who reach out to me to offer copies, interviews, etc. I wish I could accommodate all requests but I have a full-time job, a small business and like many of you, family obligations.
If I accept a book to review I will try to mention the book several times in blog posts and of course do a review but I can't guarantee when a review will be posted.
My reviews are honest but I don't bash any books and I am careful not to mention any spoilers. I also mention where I got my books from, whether it's an advance review copy, a library copy or from my own library. I look forward to hearing from you!