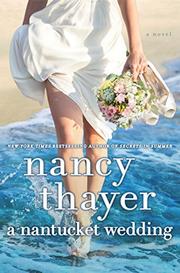 "She leaned against the refrigerator, eyes closed, just listening to her two daughters chatting away as they went up the stairs. It had been a long time since the three of them had been together like this, and she wondered if they could make it through this weekend without some spat or disagreement and hurt feelings."
A Nantucket Wedding
By Nancy Thayer
Published: April 2018
Source: Advance review copy
Alison Jones and her fiancé, David are in the middle of planning their wedding but for the middle-aged couple, blending their families will take some persistence and understanding. They have their work cut out for them but there's nothing like a summer on the beach that won't help smooth the course.
Alison's daughters, Felicity and Jane, may be worlds apart in temperament but both are happy that their mom has found love again after the death of their father. If only they could also lean on one another to help deal with their current life situations.
Felicity could enjoy the summer helping her mom plan the wedding but she can't stop thinking about the state of her own marriage. She's tired of not connecting with a husband who seems more interested in work. Similarly, Jane is going through a rough patch with her husband because now she realizes she could easily trade-in her high power career and jet-setting lifestyle for being a mom but her husband isn't on the same page.
Enter into the picture, David's grown children. Ethan, who is separated from his wife, but loves to flirt with both Felicity and Jane. And, Poppy who David had decided would soon be running his successful company but now isn't too sure she's quite ready for the job.
I initially thought this novel was going to be more about Alison and David finding love later in life but the adult children are the ones that take center stage. I thought all four had some serious growing up to do and let their parents enjoy their new life. Very light read and not surprised by the quick resolution to all the crises created by the children. Best part of the novel was the setting and thinking how wonderful it would be to spend every weekend of the summer in Nantucket.