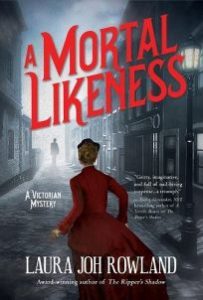 "Five months ago, Hugh and I formed a private inquiry service. We placed advertisements in the newspapers: Experienced detectives will conduct investigations of any kind… Not many people want to hire a photographer who was evicted from her studio in seedy Whitechapel or an aristocrat who'd never worked a day in his life."
A Mortal Likeness
By Laura Joh Rowland
Published: January 2018
Source: Advance review copy
Photographer Sarah Bain and her friend Hugh Staunton are eager to get their newly formed private inquiry agency off the ground but so far they haven't had much success and realize that they need to find a means to provide for themselves before they are out on the streets.
A fortuitous turn of events will have them working on a child abduction case for one of the wealthiest families in London. If they can get the child back safe and sound surely their services will be sought after but Sir Gerald Mariner has a confidentiality clause that won't make this easy for the team. Still they take on the case and move into the Mariner mansion to learn about the family and all events leading up to the kidnapping.
The Mariners and those working for them all have secrets they want to maintain and the pair quickly find themselves at odds with everyone. Despite a few "accidents" Sarah and Hugh persevere in their sleuthing but being so close to the family will even put them at odds with each other and their friendship is even at risk.
So not only is Sarah uncomfortable with her feelings toward Sir Gerald but she's had to lie to her boyfriend, police constable Tom Barrett. Will Tom forgive her for taking on another case that will pit her against Tom's boss?
This sequel to The Ripper's Shadow is a good follow up and once again we visit with great characters like Mick, the young street urchin, who has formed strong bonds with Sarah and Hugh. Sarah also is finding more clues about her own family's past which should be interesting to explore in the next installment. While I enjoyed the characters and the mystery, sometimes I did feel like our main character acted and thought a bit too "modern" for her time but I'll be curious to see what she does next.