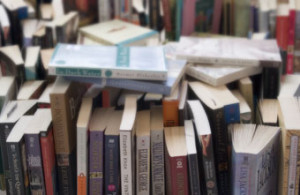 Hi Friends, I am going to start sounding like a broken record here but it's been a bit crazy at Casa Bookgirl. I am sorry if I've fallen behind on answering emails, comments and visiting with you but I ended up going out of town last week for work and I was quite busy the entire time I was away.
I had a great time meeting some of my co-workers for the first time so that was great. Of course now I'm wondering what awaits me back at the office tomorrow as I wasn't able to attend to a lot of stuff while I was out.
And, I didn't do a monthly recap for March but I had a great month despite all the stuff I had to deal with last month. I read seven books – short stories, graphic novel, audiobook, classic (yes, a classic finally!) and mysteries. In the meantime new books have arrived but I'll tell you about those in another post.
What I'm most looking forward to this month is all the focus on poetry. There are actually quite a lot of poetry events in Austin so I hope I can make some of them. Either way, I'm excited for the new month. I'll try to do some recaps of the books I read and all that soon. Anyway, I hope you've all being doing well and can't wait to catch up wit you!