I hope you've all had a great weekend. I wanted to catch up on my blog reading and unfortunately here it is almost time to go to bed and I didn't get a chance to do that. Don't you  hate it when that happens?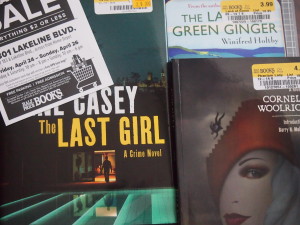 Anyway, I had a good weekend and even managed to do a bit of spring cleaning. Part of that meant weeding out the shelves and taking some bags of books to Half Price Books. While I waited for my offer of course I found some books I had to have.
As you can see from the picture I got The Last Girl by Jane Casey. I love the Maeve Kerrigan series so I was excited to find this one. This is the third book in the series.
I also picked up Phantom Lady by Cornell Woolrich. I'd never heard of this author or the book but I thought the cover was very interesting. The link to the book is to a limited hard cover edition but I thought you might like to see that. Anyway, I think this might be a great choice for my Vintage Mystery reading challenge.
Then I saw a book with the bitten apple logo of Virago Modern Classics on the spine and I had to pick it up. The Land of Green Ginger by Winifred Holtby a story about a young woman who dreams of romance but after she marries a young man who has fought in WWI, she'll have to adjust to reality.
I was very excited with my finds and when I checked out I got a little postcard about an upcoming sale. I don't know if you can read that in the picture but it says "Everything $2 or Less." I'm putting this on my calendar for sure!
Hope you have a great start of the weekend and I'm going back to my book for mystery book group. I am not done yet.