I've finished some books several weeks ago (months?) and as much as I wanted to do these books justice I realize some details are fading fast and well I decided to do some quickie reviews and at least tell you something about them.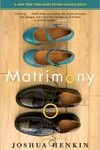 First up is Matrimony by Joshua Henkin. This book was all over the blogosphere last year and I kept reading great reviews about it but it got to the point that I felt like I knew all about it and I needed a bit of a break before starting it. I'm glad I gave myself time because I thoroughly enjoyed this book. It is a portrait of a marriage; the joys, losses, jealousies, etc., but also about friendships and the dynamics that those bring to our other relationships.
The story begins with Julian Wainwright in the fall of 1986 when he arrives at Graymont College in New England ready to learn the craft of fiction writing. He meets Carter Heinz, another aspiring writer who has a different background from Julian but nevertheless the two strike a friendship. As the years pass we get to see what happened to their aspirations and how their lives changed.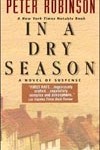 Next is the 1oth book in the Inspector Banks series, In a Dry Season by Peter Robinson. I've been eagerly reading each book in this series and this installment doesn't disappoint. As a matter of fact, I think it's one of the better books in the series so far. Sometimes with series books we come to them because we know what to expect, familiar characters with familiar situations but in this book I almost feel like a whole new game plan is open for the inspector.
At the start of the book his job is in shambles, so his personal life for that matter, and then he gets sent to investigate a crime scene which all signs point to be a dead-end case. But the skeleton of the woman found will take him to investigate a crime that occurred decades ago and which will put him right back in the game. I'm definitely looking forward to the next book in the series.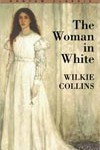 Finally, a book that was highly recommended by so many of you The Woman in White by Wilkie Collins. This book took me a while to finish but never did I find it a chore or lagging. On the contrary, I just wanted to find good chunks of time to be able to sit down and enjoy this story.
When Walter Hartright meets a mysterious woman dressed in white little does he suspect how much of an impact she will have on his life. There are strange happenings, odd people, a lot of suspense and several narrators who tell this story. I definitely felt a keen sense of suspense as I followed each narrative and wondered who to believe or trust and all the while looking forward to how it would all play out in the end. A fabulous book.
All three books I really enjoyed, and even better, they all count for several reading challenges so yay for making progress.