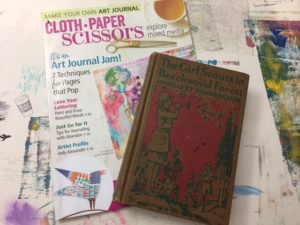 "He never went out without a book under his arm, and he often came back with two." Victor Hugo, Les Misérables.
I think a lot of us can probably relate to that quote right? Recently I went out to a little cafe for a treat to go with one of my current reads, The Widows of Malabar Hill. After I decided to go do a bit of thrifting and book browsing. I needed to clear my head of all the to-do's and just have some fun.
So at a local thrift store I found The Girl Scouts in Beechwood Forest by Margaret Vandercook. It's a 1921 edition, not in mint condition, but still quite nice. All pages are included even if there is some writing on some. This was a Christmas gift to someone according to the dedication on the inside cover. Not sure yet if I'll use it as an altered journal or junk journal. Or maybe it'll just look pretty on the shelves.
I also went to Barnes & Noble over the weekend and got the latest edition of Cloth Paper Scissors magazine. I haven't started it yet but I mainly got it for the articles by Rae Missigman, a mixed media artist, and Ali Manning, a bookbinder. Can't wait to spend some quality time with this magazine.
So what new books/magazines have you found recently?