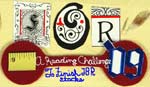 My friend, Isabel, came up with a great reading challenge for next year. I originally had told myself that I wouldn't participate in challenges that required more than 6 books but I'll make an exception for this one. So, tonight I've been going through my stacks and selecting books that I can read for this challenge.
Visit the 9 for 09 challenge blog for all the details and what each of the categories mean.
I'll be relying on books from my stacks but as we all know I'm sure to make some changes along the way. For now here's my tentative list:
Now I better get the weekend started with catching up on my reading. I'm also planning to spend some time with one of my friends, going to yoga, eating a lot of Cuties (I'm addicted to these at the moment) and coming up with more lists because I'm going to be joining a lot more challenges. I tried to resist but it's useless.
Hope you all have a great weekend and check back soon because I have a book giveaway coming up!