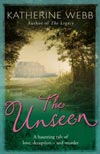 "Dearest Amelia, It's the most glorious spring morning here, on a day of some excitement. The new maid arrives today – Cat Morley. I have to admit to feeling a touch of nerves, such is the reputation which precedes her, but then I'm sure she can't be all bad. Albert was not at all sure about the appointment, but I managed to persuade him with a two-pronged argument, thus; That it would be an act of commendable Christian charity for us to take her on when surely nobody else will; and also that because of her reputation we would be obliged to pay her very little, and she would therefore represent a sound household investment."
The Unseen by Katherine Webb.
Hester Canning was feeling very content with herself. She had just opened her home to a new maid, Cat Morley, even if there were stories swirling about her past, but Hester knew that her duty as wife of the Reverend Albert Canning was to set an example for the locals in their small village.
Cat, who had run ins with the law in London, isn't necessarily all that grateful for finding a new position. She longs for freedom from servitude and she is just one of the many forces that will wreck Hester's calm life for that summer Cat is not the only new arrival but also a young, handsome man who brings talk about elemental beings.
Robin Durrant is a theosophist and seeks fame for his work and while Hester isn't all that convinced about the "fairies" he talks about she sees that the Reverend Canning has fallen under the spell of Durrant. By the time Hester understands what is happening and wants Durrant out of their lives it will be too late.
The story is told as via flashbacks as a young reporter in the present day has some letters from a solider that have prompted her to find out more of his story.  While I liked the characters in the present and could have read their own story separately, I was more interested in the lives of Cat, the Cannings and Durrant.
I've read other novels which also delved into the popularity of fairies/elementals at the turn of the century and so I didn't necessarily feel like the author was on new ground but what I did really like were her characters, especially Cat, who suffers for just wanting freedom and equal rights. I also found that Hester was portrayed as very naïve but I found that believable and I could accept that given Hester's time and place in the story.  Overall this was an enjoyable read.
Source: Personal copy